Please email for further information and application..... thank you for looking!
VISUAL GOOGLE MAP OF REDWOOD COURT, CASTRO VALLEY:
**SEE BELOW FOR PET-RELATED INFORMATION!!
THE ULTIMATE GUIDE TO PET ADOPTION: SNEAK PREVIEW!!
TO FIND LOST PETS, CLICK HERE!!!
Another site with ideas to find lost pets:
****LOOK****** CHOCOLATE TOXICITY CALCULATOR FOR DOGS!!
For top of the line pet food with free delivery! Great website: petflow.com
BE MY BARKI - Highly recommended Pet Sitter in Castro Valley...please see website for information.

WANT TO KNOW HOW FAR RENTAL PROPERTY IS FROM EVERYTHING??? GET YOUR WALK SCORE HERE...
EMERGENCY CLINIC AND SPECIALIZED SERVICES, INCLUDING ONCOLOGY, DERMATOLOGY, SURGERY, ETC.... 510-483-7387 - 14790 Washington Avenue, San Leandro....click here to go to website...
FOR ANIMAL POISON CONTROL
This is the only dedicated animal poison control hotline in the world manned by veterinarians, not telephone operators. The number is staffed 24/7.

(888) 4ANI-HELP or (888) 426-4435
Link to Pet Friendly Hotels in California....

!!! CLICK HERE NOW TO GIVE TO THE ANIMAL RESCUE SITE !!! FREE FOOD FOR ANIMALS!!! ********** - - - - - - - - - - - - - - - - - - - - - - - Each click on the purple "Click Here to Give - it's FREE" button at The Animal Rescue Site provides food and care for a rescued animal living in a shelter or sanctuary. Funding for food and care is paid by site sponsors and distributed to animals in need at the Fund for Animals' renowned animal sanctuaries (including Cleveland Amory Black Beauty Ranch in Texas and the Wildlife Rehabilitation Center in California), pet shelters supported by the Petfinder Foundation , North Shore Animal League , and other worthy animal care facilities supported by the GreaterGood.org foundation.
*******PAWS & CLAWS - OAKLAND: A GREAT holistic food and stuff for pets....plus a GREAT place to bathe your pets or have them groomed...super nice and informative owners....you'll love this place...
AC TRANSIT BUS SCHEDULE AND ACTUAL TRIP PLANNER...CLICK HERE!!
For B.A.R.T. (Bay Area Rapid Transit) info, click here!!
CLOSE TO SCHOOLS, PARK, SHOPPING, AND TRANSPORTATION! .
Link to www.greatschools.net to find all schools within a close proximity....
** Click here to compare schools: www.schoolmatters.com
Click here to find schools in your address location!.......
Link to San Leandro and San Lorenzo Unified School Districts
Link to Castro Valley Unified School District
The Department of Education has awarded Jensen Ranch Elementary School in Castro Valley as a 2013 National Blue Ribbon School....
www.mycastrovalley.com ** GREAT link for pet info, map of area, etc....a MUST SEE!
FOR LOCAL AREA WEATHER, CLICK HERE !!!
My Skye - RIP May 7, 2009
DOG TRAINING - CASTRO VALLEY ADULT SCHOOL - THIS CLASS IS THE BEST....BY EXPERIENCE!! BRAVEHEART DOG TRAINING - VICKI RONCHETTE AND ASSISTANT KATHY KINNEY...I AM SO IMPRESSED....
CLICK THIS LINK (*) FOR DOG OBEDIENCE TRAINING....GO TO: "A DARN GOOD DOG"....GREAT WEBSITE....(*)
For Dog, cat and all pets health information, here is Bishop Ranch Vet Clinic's site that makes it easy to look up problems with health, behavior, diseases, drugs, etc... Also, FIRST VISIT IS FREE..
**FOR TOXIC PET ITEMS AND POISON CONTROL....**
And for Dog Parks, click here!!!
Before you take your dog to a dog park:
Visit the park without your dog, preferably at several different times of day, to get a feel for what kind and how many dogs your dog may encounter.

Gradually socialize your dog. .... Taking your dog immediately to such an exciting setting could set a shy dog back rather than help him or her. Start with a more disciplined arena like a training class, or supervised interactions on-leash with another dog. Once they're comfortable with this, start having one-on-one off-leash interactions.

If your dog does well in these situations, start allowing off-leash interactions with other dogs.

When visiting a park, please follow these rules:

Clean up after your dog

Make sure your dog is licensed and has current vaccinations

Make sure your dog is wearing a collar with ID tags at all times

Dogs with a history of aggressive behavior are prohibited

Puppies younger than four months are prohibited

Animals must be spayed or neutered

Never leave your dog unattended

Carry a leash at all times

Limit of three dogs per person per visit

If you bring young children, make sure they are closely supervised

Dogs should be leashed prior to entering and upon leaving the park
For the Offleash Dogs Web Ring click here....
PETS ARE ALWAYS WELCOMED!! (Unfortunately, due to insurance underwriting, certain restrictions do apply (i.e. Pit bulls, Rottweilers, Chows, Akitas, Jindos, Staffordshire Terriers and Presa Canarios. ).
CENTRALLY LOCATED -- CLOSE TO FREEWAYS (I-580 AND I-880 .....
For the "Pet People Network of the Bay Area", which has lots and lots of referrals for pet services such as dog walking, boarding, etc., click this link:
Bretons School for Dogs & Cats - (Danville) Boarding Kennel....VERY nice and clean..
"HAPPY HOUND" Play & Daycare for Dogs (Oakland)
"CITIZEN CANINE" Doggie Day Care....(Oakland)
** 5 star rating on Yelp: Doggy Lama in Oakland ... http://www.yelp.com/biz/doggy-lama-pet-care-dog-walks-and-in-home-boarding-oakland
TO REPORT LOST, STOLEN OR FOUND PETS CLICK HERE....
IF YOU LOSE OR FIND A PET, HERE ARE PLACES YOU CAN LOOK:
LOST PET: "HOW TO FIND" LIST

Note: This list is meant to be a quick guide for immediate use if your beloved pet should be LOST!

PRINT and POST FLYERS (minimum radius 10 miles)

Recruit Family, Friends & Neighbors to Help Post Flyers In The Following Places:

Telephone Poles, etc.
Place Folding Street Signs, Real Estate type
Place Large Sign in your Front Yard
Neighbors
Family & Friends
Veterinarians
Animal Hospitals
Local Radio Stations
Local TV Stations
Pet Supply Stores
Pet Shelters
Pet Training & Obedience Schools
Pet Associations
Pet Rescue Groups
Your Pet Owner Friends
Police Departments
Fire Departments
Children's Schools
Children's Play Grounds
Sports Events
Grocery Stores
Banks
Restaurants
Local Businesses
Other Public Places

CHECK ALL LOCAL SHELTERS (for at least a 10 mile radius). Don't only check once. Physically go back over and over again. Unfortunately, they are not always good to respond.

CALLS OR EMAILS

HomeAgain Email Notifications
(If your pet is chipped, contact microchip company)

VPI Pet Insurance
(If your pet is insured, contact insurance company)

DOGGIE LAMA PET CARE ... 5 STAR DOG SITTING....SEE REVIEWS ON www.yelp.com Message from this business: ..."We do fun East Bay off-leash beach and trail romps and use training techniques to reinforce good trail manners. We pick up and deliver happy and tired dogs home. We board 2-4 dogs in our four homes where they get love, attention, exercise, and are never caged or kept outside. We've gotten 2007 and 2008 "Best of" Awards from San Francisco mag and the East Bay Express. All staff go through the Dog Walking Academy to learn about dog behavior and pack management."
**WOOFWALKS - another 5 star rated pet sitting - walking - training site.... www.woofwalks.com

For Pet dental care and teeth cleaning WITHOUT anesthesia for cats and dogs....CLICK HERE -- excellent!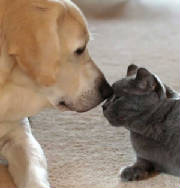 ***CLAUDIA'S COUIFFURE LE'PETITE DOG GROOMER - CASTRO VALLEY....GREAT JOB AT GREAT PRICES....HIGHLY RECOMMEND!!
*** Pawsitive Karma on Castro Valley Blvd...you'll love this place for grooming and organic foods for pets....
K-9 COTTAGE in San Leandro Washington Manor area- GREAT GROOMER....LOOK AT THEIR VIP PIX AND SEE MY SWEET AUSSIE, SASHA....