** ABOVE ARE LINKS TO EACH PROPERTY FOR RENT..JUST POINT AND CLICK!!...
http://jgt76.tripod.com/id8.html
Sorry -- Application pending!!
4669 Malabar Avenue, Castro Valley ** (Off Redwood Road, just past Castro Valley High School
$1,895/mo. includes bi-monthly gardener and pond water maintenance as needed (NOTE: if tenants have fish, then pond maintenance is at the expense of the tenant.)
$1,500. Security deposit
*No additional pet deposit.
Non-smoking please ** Pets always welcomed!!
**Insurance restrictions do apply.
**Please do not disturb tenants...
Proctor School District ** Bright and very private......
Darling 2 bedroom cottage with koi pond and many amenities....a touch of Tahoe in the city....very unique..a MUST SEE!!
Scroll down for pictures and more information -
>
>
>
SASHA and SAMMY * 2003 *
FRIENDLY PETS WELCOMED !!
** Please keep this page bookmarked for future vacancies...

Help save the earth with the Pickens Plan....let's change to natural gas, wind power, and other natural resources we have here at home....click here to see more about THE PLAN....
WE ARE PRESENTLY ACCEPTING APPLICATIONS FOR VACANCIES IN SAN LEANDRO AND CASTRO VALLEY....
PLEASE KEEP THIS WEBSITE ON YOUR LIST FOR FUTURE REFERENCE!! THANK YOU....

ATTENTION ANIMAL LOVERS !!
4669 MALABAR AVENUE, CASTRO VALLEY HILLS - **PROCTOR SCHOOL DISTRICT**
*Note: **Non-smoking please.....
Conveniently located ** Just minutes to S.F., Livermore, Fremont, Richmond, etc. via Castro Valley Bart.......
**PET-FRIENDLY LANDLORD!! **Pets ALWAYS welcomed! (Insurance restrictions do apply...)
NOTE: **Cottage available early March 2014.....
Please do not disturb tenants....thank you!....
$1,895/mo. includes bi-monthly gardener and pond maintenance as needed**. No other utilities included. **Tenants are responsible for pond maintenance costs if fish or Koi are added to pond.
$1,500. security deposit --
No additional pet deposit.
$25 Credit check required for each adult over 18.
**Must have good rental history and good credit.
New to Castro Valley?? Click this link to Castro Valley info, weather, pets, stores and other neat pet sites.....check it out! - GREAT website! **
*** LOCATED IN THE CASTRO VALLEY HILLS - PROCTOR DISTRICT .... VIEW OF CASTRO VALLEY......

Get the feeling of being in the moutains or living in the Carmel area.....
For information on all school districts, please click this link.....VERY informative.....
Click on links below for schools, dog walking sites, etc.....
Pet Resumes, School Information and my Email.....
Cozy 2 Bedroom 1 bath (4669 Malabar Street, Castro Valley (at the top of Redwood Road), just past Seven Hills Road.
QUAINT, CUTE AND CHARMING!!
NESTLED BENEATH THE TREES, THIS IS A VERY UNIQUE AND DARLING HOME WITH LANDSCAPED YARD W/koi POND and fountain in a GREAT AREA...LOTS OF TREES - LIKE LIVING IN CARMEL OR TAHOE.
DETACHED SHOP / LAUNDRY ROOM W/ WASHER/DRYER INCLUDED.
PLEASE SEE PICTURES BELOW......
Security wroght-iron fencing in front, dual-paned windows throughout; free-standing fireplace w/faux fire insert; hand-carved storage drawer; lots of skylights (bathroom, bedroom and hallway); upgraded electrical; gas stove, refrigerator; washer/dryer and microwave included.
Close to CV BART (which has the Farmer's Market on Saturdays), Castro Village Shopping Center, Willow Park Golf Course (approx. 1 mile), schools and transportation.
An absolutely GREAT neighborhood.
THANKS FOR LOOKING......
CARPET DINING AREA IS NOW WOOD LAMINATE AS OF 2013
FENCED YARD WITH KOI POND
Carmel-like view from front door....
Newly painted throughout...
Window seat with view of Castro Valley,,,,,
Small, bright kitchen with new stove and refrigerator.
BEDROOM WINDOWS OVERLOOK POND....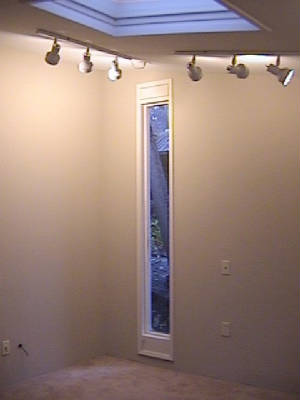 SKYLIGHTS AND CUSTOM WINDOWS.....
Main bedroom approx. 13'6" x 14'9"

*

Small bedroom/office approx. 8'9" x 9'

*

Livingroom approx. 10' x 20"

*

Dining room approx. 8' x 14'

*

Kitchen approx. 5' x 10'




Note: all measurements are approximate.

Welcome to JGT Properties!


All available rentals in our Online Rental Office will be displayed as soon as we are notified of a tenant leaving. There will be pictures displayed of the interior and exterior of each unit and, of course, pets are always welcomed!

Please check the next page for pictures and more information on available rentals.

FOR RENTAL INFORMATION, CONTACT: JOYCE AT 510-733-0700

or email me at:

joiceez@gmail.com